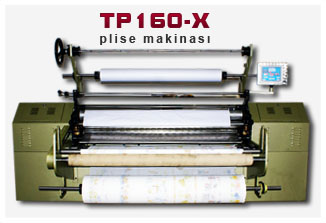 Our company, TUNA PLİSE® was founded by Osman KAHYA in Izmir in 1982 and moved to Istanbul in 2002. The company serves in textile sector as of date of its establishment.
In addition, the company realizes manufacturing of pleating machine. It was the first and single company attending to international textile machines fair arranged in Turkey in 1994 with its pleating machine.

As for today, the company manufactures TP160-X Computer Controlled Automatic Pleating Machine being servomotor controlled, having touch operator panel, memorizing model dimensions performed and being 100% domestic production.
By taking advantage of serving to textile sector for long years, our company developed TP160-X model accordingly.
All of our machines manufactures in above stated manner are user friendly.
CERTAIN FEATURES OF TP160-X COMPUTER CONTROLLED AUTOMATIC PLEATING MACHINE:
All types of pleat called as Flat Pleat, Reverse Pleat and Jacquard Pleat and their variations may be applied on same machine. Therefore, there is no need to purchase different machines. 
It is possible to apply overall these pleating types on same model. To illustrate, jacquard pleat may be applied while making flat pleat and flat pleat may be continued afterwards. 
10 different dimensioning is possible on a model.
As for depth measure, it is possible to perform pleating between 3mm. and 33 mm.
You can apply pleating in unlimited distance having a maximum measure of 2 mm.
Different pleat types may be obtained thanks to specially designed knives (optional).
You can leave spaces according to your demand while pleating, any restriction does not exist.
You can iron the product freely (without any pleat and even if, knives are open).
As all movements are provided by means of servomotors, excessive adjustments are not required in mechanical sense.
You can perform required dimensioning to create a model on a digital environment, in other words specially-programmed touch operator panel.
It is possible to store any model you completed. You can call this model stored after a time period.
Heaters of main cylinder may be time adjusted (optional). By this way, your machine shall be ready for operation whenever you want. 
Operating width of our machine is 160 cm. However, operating width may be larger or smaller in accordance with requirements.
Tecnical Features

Machine Videos

Contact